Having not really written for a little while (videos are easy, mostly enjoyable and do, I hope, indicate a desire to offer something new to those of you who take the time out of your busy schedules to come by), I've been back and forth on just what to re-enter with.
I decided to tell a little story.  Here's hoping it will convey its intended sentiment.
I scan Facebook just about every day.  I imagine I'm like most in that once you've got an account there and have been "friended" a few times you're just curious as to what your friends are up to and whether or not some long lost classmate has suddenly discovered you there.
Such was the case several weeks ago during my daily visit when I happened across a short blip by a former sister-in-law and Facebook friend who was announcing that she'd sure like to have folks come by her blog and comment.  Hmmm.  Sure, that sounds like fun and who knows, maybe I can get her involved over at the Comment Exchange.
So I'm over at Theo's blog looking around and I come across a sidebar section called "Blogs by Family & Friends."  Cool.  I used to be part of her family.  Maybe there's something here by someone I know.
Hmmm.  Here's an author's picture.
What's this?
My daughter?
Megan?
My daughter has a blog?
You're kidding.
Click.
Now, don't get me wrong.  It's not that I thought my daughter was incapable of having a blog.  The surprise came in the overwhelming realization that Megan – my daughter – had never, ever said one single word about the fact to me!  Her father!  Her father who she knows writes a blog!
Suffice it to say I was hurt.  I mean, it's great that she's doing a blog, but why would she not tell me about it?
Megan is my eldest.  She just turned 30.  She and Kyle have been married eight years today.  But try as they might, no children yet.
I've always known that Megan wants to be a mom.
I've known from afar that they've seen doctors and tried this and that in order to make their parenthood become a reality.  Being her dad, I've always tried to refrain from asking too many questions or in any way pressuring her about babies or the lack thereof.
But soon after the aforementioned "click," the weightiness of Megan and Kyle's childlessness came down on me heavily.
My sweet daughter writes a blog.  She's been writing it since October 4, 2008.  The important thing here is not that she's never shared it with me, but that it's about infertility. Specifically, hers.
I almost felt guilty reading a few of the posts.  I mean, since she's never said anything, does that mean she's intentionally hiding it from me?  Much of it is almost like a diary.  Yet, here it is…on the world wide web…
As I navigated around a little, reading here and there, one thing hit me squarely (laying aside momentarily the pain and expressions of emotion) — This is Megan's telling of her journey- and it's really good.
And although her Alexa ranking doesn't really seem to do it justice, my daughter's writing seems to have quite a following.  Lots and lots of ladies commenting and relating to Meg's experience.
Megan knows she's the daughter of the writer of Boardman Country.  She knows Boardman Country is the place "where everyone's entitled to MY opinion."  Is it possible, Meg, that you wondered if MY opinions might slosh out of the bounds of Boardman Country into your domain?  I could certainly understand how you might think something like that.
I don't know if you'll ever stumble across this post or not, sweetie.  But just in case you do, let me declare here and now just how proud I am of you.  What a wonderful piece of work you have going over there.  Whatever you do, don't stop!  You're a very good writer and you obviously care about how your message is presented.
Meanwhile, your journey continues and although you've not yet seen the answer to your prayers, you've got quite an army helping you pray them.  Remember, delays are not denials.  God always comes through with His answers at just the right time.  Never too early.  Never late.  Perfect.
I love you so much!  Happy Anniversary!
And for anyone else who's stumbled through here, this is my daughter Megan (and her husband Kyle) and this is where you can find her.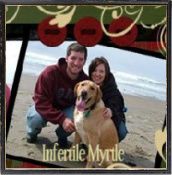 You're in Boardman Country!
Make yourself at home,
Brad
Share and Enjoy
Tags: amp, blip, blog, classmate, daughter megan, desire, doctors, hmmm, mom, realization, sentiment, single word, sister in law, sounds like fun, surprise, theo, time out
27 Responses to "Daughter of Mine"